Job opportunities at Jinja Regional Referral Hospital – External advert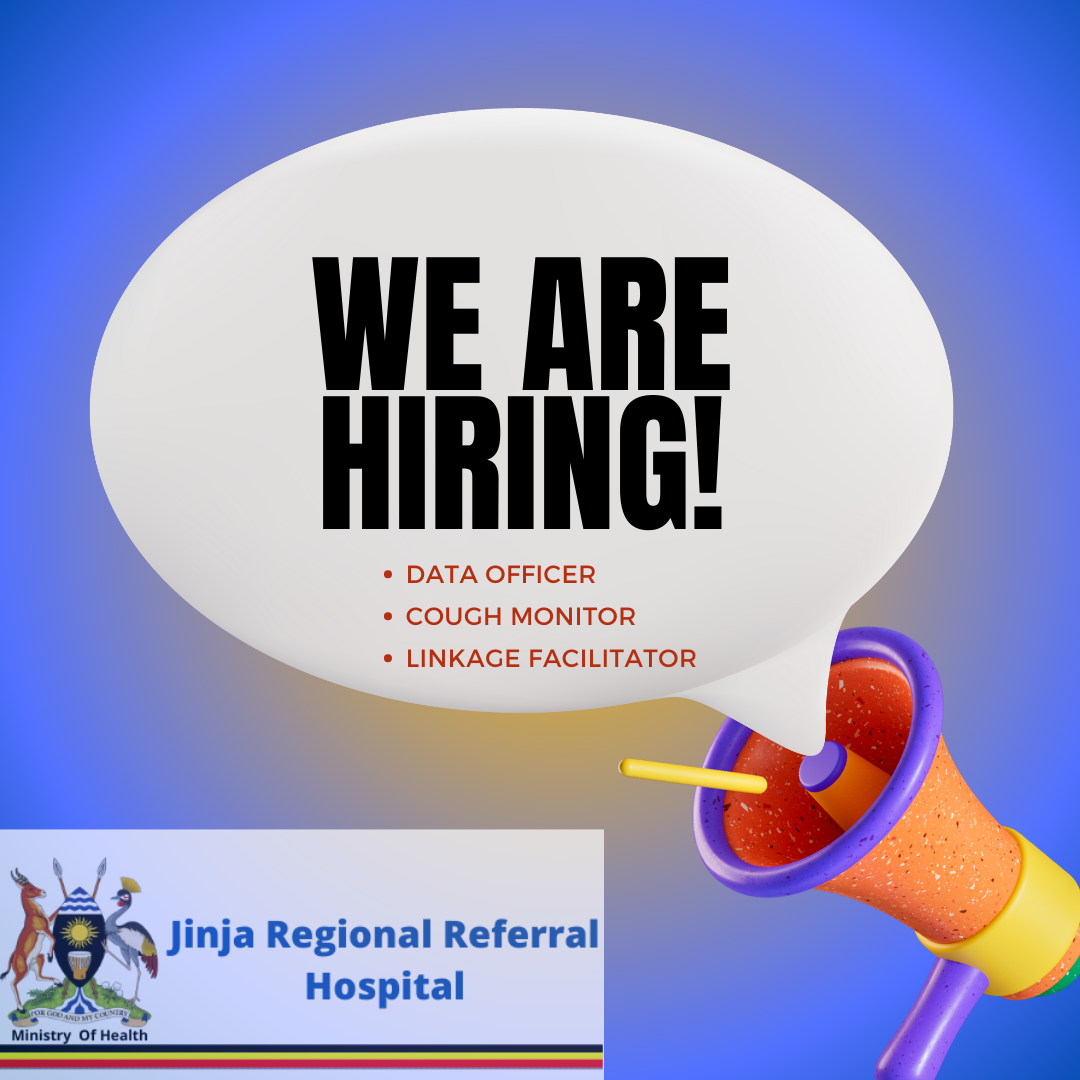 Jinja Regional Referral Hospital, invites applications from suitably qualified individuals for the following Local contract positions tenable at the hospital under the G2G Project – USAID/ Jinja Regional Referral Hospital Strengthening Activity  to be submitted to the address below not later than Friday 14th March 2023 at 5pm
N.B: All staff recruited under this project will be given employment contracts by the hospital. These are full time jobs, so people already holding full time Jobs should not apply and salaries will be based on Government scales.
Where applicable, applicants must be registered with the relevant council and have a valid practicing license
APPLICATION PROCEEDURE
Applications should be filled in triplicate on PS Form 3 (Revised 2008) and attach Curriculum Vitae, copy of the national identity card, photocopies of certificates and testimonials of the academic credentials and contact information for 3 professional references to;
The Hospital Director
Jinja Regional Referral Hospital
P .O Box 43 Jinja,
1

Post

Data Officer – 1 Post

Reference
HRM 001/2023 JRRH
Reports To
Senior M & E Officer
Qualifications
·         Bachelor's degree of Statistics (Statistical Computing Option), Demography, Computer Science, Software Engineering or equivalent qualification.

Minimum of 2 years' experience in managing health related data

Familiarity with use of Microsoft Excel, ODK, DHIS2, HIBRID, Uganda EMR is added advantage.

Knowledge of Health Management Information System (HMIS).

Duties And Responsibilities
·         Prepare and sort patients' files and register and identify data to be entered.

·         Support transcribing of patients' data from the patients' files to MOH Care and Treatment registers.

·         Confirm accuracy of data such as numbers, days, dates times, location on both source documents and in the electronic database

·         Enter patients' data into a database

·         Keep track of received patients' files and registers that are used for data record and entry

·         Prepare and submit periodic reports for Jinja regional referral hospital and Ministry of Health

·         Prepare adhoc reports as many maybe needed from time to time

·         Ensure that confidentiality of data collected and stored are maintained

·         Ensure that the entered data are backed up regular and the data are well protected

·         Ensure an effective and efficient records management system is established

·         Ensure safety of all equipment in the data rooms

·         Perform any other related duties assigned by the supervisor
2

 

Cough Monitor – 1 Post

Reference
HRM 002/2023 JRRH
Reports To
T.B Lead Person
Qualifications
Should have O'Level

Knowledge of the local language of the area

Skill in T.B Management

Certificate in any medical field is an added advantage

Duties and Responsibilities
·         Screen for TB at all service delivery points (OPD, HIV clinic, wards (IPD), Maternity/ANC).

·         Fill in the presumptive register for all presumptive TB cases identified.

·         Fill in TB test (GeneXpert) request forms from presumptive TB cases

·         Track all results of samples sent for testing in the lab (GeneXpert) and update the presumptive TB register with results.

·         Contact (either phone call or physical visit) all clients whose results are positive for TB to return and start treatment.

·         Screen for TB in the community, refer presumptive or collect sputum samples and bring them to the facility for TB testing.

·         At least 1/3 of the cough monitors' worked time to be spent on community TB screening and referral of TB samples from the community.
3

Post:

        Linkage facilitator (Volunteers) – 2 Posts

 
Reference
      HRM 003/2023 JRRH
Reports To
      Senior Community Linkage Coordinator
Qualifications:
·         Should have minimum of O'Level

·         Knowledge of the local language of the area

·         Certificate in counselling is an added advantage

Duties and Responsibilities:
·         Create awareness at health facilities through health talks, promote positive health practices and ensure completeness and track community referrals.

·         Conduct follow-up of missed appointments and lost clients through phone or physical contact follow-ups. Ensure reports are completed on daily basis

·         Provide health education, counseling and follow up mother-baby pairs who have missed their appointments PMTCT/EID. The Linkage facilitator will work with the health facility in charge and e-MTCT focal persons to identify HIV positive women and men who have passed through the PMTCT/ART programme.

·         Provide individual and group counselling as well as sharing life experiences with clients to support adherence.

·         Operate at mother baby care points to increase uptake, sustainability and promote adherence to option B+ services through formal and informal interaction with newly enrolled mothers

·         Provide follow-on psychosocial support and counseling on e-MTCT services

·         Follow up clients who have missed their clinic appointment and lost clients

·         Enlist male partners to support their spouses who have enrolled on e-MTCT services and for them to test for HIV

·         Screening of Clients/Conduct Nutrition assessment at outpatient contact points (OPD, YCC, PNC, ANC, HIV, TB, MBCP)

·         Provide psychosocial support and adherence counselling for children and adults with HIV

·         Actively walk clients from one service point to another within the health facility.

·         Link clients and caregivers to other service organizations for community-based care and support services using referral forms & registers

·         Participate in retrieving client files before the clinic and filing them back after the clinic

·         Support in the filling of appointment books, generate search list and make phone calls for Lost to Follow Up (LTFU clients).

·         Keep list of clients you are supposed to support and follow up including list of clients; counseled, assessed for malnutrition, linked, and attached. Compile monthly reports.
PS form 3 can be downloaded from here PUBLIC SERVICE FORM 3 (PS FORM 3)